What we do
We manufacture and supply new CENTRAC silo discharge machines, spare parts and conversion parts. In addition, we carry out maintenance, repairs and upgrades as well as repairs and retrofits on foreign silo discharge machines.
New CENTRAC silo discharge machines are manufactured by us in such a way that they correspond to the requirements of the new silo plant or to the silo plant to be changed.
N

ew construction of a waste recycling plant

In Engis, Belgium, SUEZ Environnement is using 4 CENTRAC from EXTRACTION SYSTEMS. An automatic crane system fills the hoppers with sawdust and compost.
New silo building for cement additives
n Barroso, Brazil, 4 CENTRAC are in use for the cement manufacturer Holcim. They are discharging pozzolana, clay, limestone and marl from new silos.
New vessel for parboiled rice
By the use of 6 food-grade CENTRAC various types of rice are precooked to very exact cooking levels in Belgium.
Reports concerning new constructions
---
We can upgrade many silos for new bulk materials or new performances. For this we normally install a new CENTRAC for the first time. Where a CENTRAC or a foreign silo discharge machine already exists, we can often fulfill the new requirement just by replacing some individual parts.
CENTRAC is replacing concrete hopper
At the cement manufacturer Holcim in Obourg / Belgium, a CENTRAC silo discharge machine replaces a concrete hopper. As a feeding station to lead ash, clay, contaminated soil and sludge on a belt conveyor, the concrete bunker was never suitable.
Clinker silo became a chlorine dust silo
In Xeuilley, France, Ciment Vicat could reactivate an old concrete silo for the storage of chlorine dust trough the installation of a CENTRAC.
New silos could not run before they were equipped with CENTRAC
In France these new silos for nutshells could not operate trouble-free before they have been equipped with a CENTRAC.
Reports concerning upgrading
---
Silo discharge machines such as our CENTRAC have been in use worldwide since 1970. Some silos in which they were installed are still in use today. But their manufacturers (for example LOUISE S.A., Meyer, Besta & Meyer, WTW-Engineering, MHC-Engineering) do not exist anymore. We are able to upgrade these old systems with our new technologies.
Extractor from WTW-Engineering got

distinctive

CENTRAC parts
After several serious defects on the Silex silo discharge machine, the plasterboard manufacturer Siniat in Carpentras / France decided to entrust EXTRACTION SYSTEMS with the retrofitting. By installing distinctive components, the Silex has got CENTRAC properties with significantly improved performance and availability.
Erroneous calculation and dimensioning
The incorrectly dimensioned components in a foreign silo discharge machine led to a total break down in a German plasterboard plant. EXTRACTION SYSTEMS was able to save the expensive silo system and ensures its operation for further decades by an extensive repair and the use of its own technology.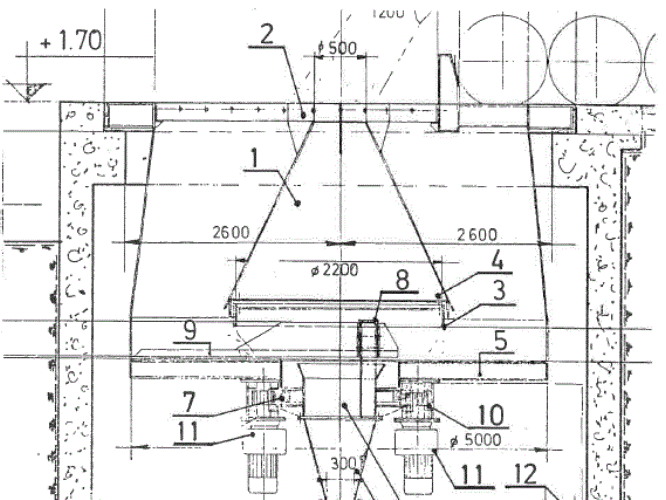 Extromat got CENTRAC technology
In Völklingen, Germany, EXTRACTION SYSTEMS got the contract to retrofit two Extromat silo discharge machines from Meyer because the discharge arms cracked almost every year. In addition the Extromat could never achieve the initially planned performance.
Reports concerning retrofitting
---
Our clients*
* who have given us permission to use their logo